What is "Thanksgiving" you ask??
Only the best food ever!! Okay, you can only do this once a year, but once you've tasted it, you'll be wishing it was the day after Thanksgiving all year round... except maybe Christmas day, cause you know... candy and presents and whatnot. Here's what you need:
Mashed Potatoes
Stuffing
Peas (optional)
Sauerkraut (optional)
Turkey (optional)
Cranberry Sauce
Sweet Potatoes/Yams (optional)
Once you have all these, put the ones that you like into a bowl, mix them up, microwave it, and enjoy. Okay, right now you're going "Eew, gross!" right? Oh, you are so so wrong. It sounds disgusting, but it's so good. Mmm... Thanksgiving... ::drools all over keyboard::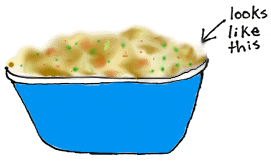 Warning: Use Sauerkraut and Cranberry Sauce sparingly. Less is more.